PROFORMA co-sponsored a symposium at the 10th EDCTP Forum (17th – 21st November 2021)
11 Februari, 2022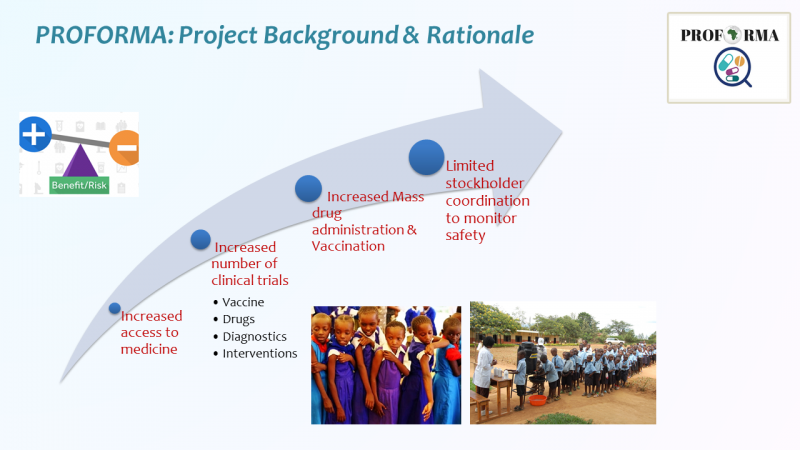 PROFORMA together with PAVIA sponsored a symposium entitled "Equity in safety: improving pharmacovigilance of drugs and vaccines in Africa".
PROFORMA and PAVIA are ongoing EDCTP-funded projects aimed at strengthening pharmacovigilance capacity in Africa through education, research and improvement of information exchange and collaboration between medicine regulators, academia, and public health programmes.
The aim of the symposium was to share the experiences drawn and lessons learnt from the PROFORMA and PAVIA projects. It in addition explored how the experiences can be used to address the challenges of Covid-19 vaccines safety surveillance in the continent. Presentations on each of these three topics were followed by a live panel discussion on how research, education and system strengthening can go hand in hand to improve equity in drug safety in Africa. The symposium brought the perspectives from the two projects but also from key policy bodies including the World Health Organization and the African Union Development Agency.
Professor Eleni Aklillu, the PROFORMA project coordinator presented highlights of the project background, accomplished and ongoing activities and the achievements made so far under the following work packages (WP).
WP 2. Assessment of baseline PV system and structure in Ethiopia, Kenya, Tanzania, and Rwanda (Completed)
Performed in-depth analysis of the presence and availability of basic PV infrastructure
Identified local strength, deficiencies, and gaps in PV structural elements,
Provided country specific recommendations for intervention
Develop a national PV plan for comprehensive interventions
WP 3. Strengthening national PV systems (ongoing)
Introduce comprehensive interventional measures aligned with the local needs and priorities.
Develop a PV trained cohort able to lead and manage PV process
Improve infrastructure, including implementation of tools towards rapid-response electronic safety surveillance systems
WP 4. Post marketing surveillance of one mass drug administration and vaccine in each country
Academic, national medicine regulatory authorities and public health programs conducted a joint active cohort surveillance study to monitor the safety and efficacy of drugs used in mass drug administration & Vaccines.
| | | |
| --- | --- | --- |
| County | MDA (NTD) surveillance | Vaccine surveillance |
| Tanzania | Ivermectin & Albendazole (Lymphatic Filariasis) | HPV Vaccine |
| Ethiopia | Praziquantel & Albendazole (Schistosomiasis, Soil transmitted Helminths) | HPV Vaccine |
| Kenya | Diethylcarbamazine citrate & Albendazole Vs. Ivermectin, Diethylcarbamazine citrate & Albendazole (Lymphatic Filariasis) | |
| Rwanda | Praziquantel & Albendazole (Schistosomiasis, Soil transmitted Helminths) | |
WP 5. Short and long-term training in pharmacovigilance
Post graduate training: A total of 12 post-graduates (7 PhDs + 5 MSc) – ongoing
Undergraduate pharmacovigilance curriculum (short course) developed and launched
Post graduate pharmacoepidemiology & pharmacovigilance curriculum (Master's program) developed and launched
Pharmacovigilance E-learning module for health care professionals developed and launched
Link to Symposium video on YouTube:
https://www.youtube.com/watch?v=KyznxMLc6QM